Chelsea v Arsenal – as it happened
It's another factually correct Super Sunday and first up we've got the meeting of London rivals, Chelsea and Arsenal.
Not so long ago, this would have been a game with a huge influence on the destination of the Premier League title, but since it's not 2005 anymore, all a win means is the victorious manager getting slightly less abuse from angry fans for a few days.
If you're on the go, don't like financing the Murdoch empire by paying for Sky Sports or still think moving pictures are the work of the devil, then I'll be hear to keep you up to date will all the happenings from Stamford Bridge.
Latest score:
CHELSEA 2 – 1 ARSENAL – BET NOW
====================================================
3.22pm: FULL TIME! Much better from Arsenal in the second half, but all they get from the match is the feeling they were shafted by the referee. Chelsea just about deserve it, mainly because they eventually took off Fernando Torres.
3.20pm: Great defending from Gary Cahill. He takes the ball away from Walcott just as the ball was falling to the Arsenal striker about eight yards out. A Giroud header sails just over the bar.
3.19pm: Arsenal press. Giroud tries to tee up no-one in particular and then blames Arshavin for not knowing what he was trying to do.
3.16pm: Chances both ends. Chelsea have a penalty appeal turned down and Giroud test Cech with a long range effort. Cech passes the test rather easily. We will have five minutes of added time for some reason.
3.15pm: SUB! Chelsea make their final change. Marko Marin comes on and Eden Hazard goes off.
3.13pm: YELLOW CARD! The ball breaks for Sanga on the edge of the Chelsea box. He looks like he's about to get away, but Ashley Cole trips him up. Vermaelen's free-kick goes wide.
3.10pm: GREAT CHANCE! Ba gets played in, he rounds the advancing Szczesny, looks like he has a tap in to an empty net, but Vermaelan gets back to block the shot. Great football, but especially good 'not giving up' from the Arsenal captain.
3.07pm: SUB! Miley Cyrus gets the hook and Demba Ba comes on. Now Chelsea might start looking dangerous again.
3.05pm: Chelsea waste a 2v2 break and Jack Wilshere goes down holding his face. After being caught in the face by Ramires rather than in the sudden realisation he's an Arsenal player.
3.01pm: SUB! Arsene Wenger makes a change calling Abou Diaby ashore and giving Andrey Arshavin the chance to stop his Arsenal obituaries being written.
2.59pm: Ramires shoots form distance, but Szczesny makes the save.
2.58pm: SUB! Oscar comes off and Ryan Bertrand comes on to aid the defensive effort.
2.58pm: Another good run from Miley wins a corner for Chelsea.
2.56pm: CHANCE! Miley Cyrus shows control, tencacity and the turn of pace that made him one of the world's most feared strikers, but just when it's time to pull the trigger, he overhits a touch and Szczesny cleans it up. A sad microcosm of his Chelsea career there.
2.53pm: YELLOW CARD! Juan Mata goes into the book for having a beard that's too patchy. Or kicking the ball away. Arsenal get nothing from the free-kick and subsequent corner.
2.50pm: Arsenal are looking much better and they're right back into it. The odds tell a very different story now.
Match betting: Chelsea 3/10 Draw 7/2 Arsenal 11/1
2.47pm: In the aftermath of the goal, I nearly missed this one:
Arsenal will be delighted Coquelin is down injured on one part of the field
Niall Quinn needs to learn the importance taking a pause at the appropriate part of the sentence.
2.45pm: GOAL! THIERRY WALCOTT! Arsenal are right back in it thanks to a Henry-esque finish from the newly-signed up striker/winger.
2.44pm: Giroud has a chance, but he fluffs his header – which I'm sure might trigger your net nanny.
2.42pm: Arsenal are looking better after the restart, but it's only looking better in the 'oh, you can barely tell you had a botched facelift' sort of a way.
2.35pm: ANOTHER CHANCE! Walcott gets into the Chelsea penalty area. His low shot is powerful, but straight at Cech. That's already about a 400% improvement on that they managed for the entire first half.
2.34pm: CHANCE! Arsenal try to surprise Chelsea with a set-piece routine that doesn't let Chelsea break and create a chance. The ball bvreaks to Mertesacker and his first time shot his straight at Petr Cech.
2.32pm: The second half beigns and Arsenal kick off.
2.27pm: Ryder Cup legend, dedicated follower of fashion and Arsenal fan, Ian Poulter takes time out of trying to sell his clothing line to vent his spleen:
I would love 5 minutes in that team room. Sort them out and give them a full piece of my mind. They don't deserve to wear that crest. #pride

— Ian Poulter (@IanJamesPoulter) January 20, 2013
2.21pm: There's some bad news as Fernando's haircut looks like it spells the end of the Torres/Bruno gags. Luckily I've an option for a replacement. Two words – Hannah and Montana.
2.16pm: HALF TIME! Chelsea are dominant and Arsenal are offering so little that the sensible options looks like going home now and avoiding the threat of hypothermia. Is there any chance of a second half revival?
2.14pm: Another chance for Chelsea. The ball breaks to Torres about sixteen yards out and the result is as predictable as the plot of a Bond film. He slices it high into the stand.
2.08pm: Arsenal win a corner, but it comes to nothing. So far they've shown as much aerial threat as the seven dwarves.
2.06pm: Again Chelsea seem to carve out a chance at will. Ramires his shot is about as accurate as a January Transfer Window rumour and it sails high and wide of the Arsenal goal.
2.02pm: Joey Barton gets to the root of Arsenal's problems:
Arsenal haven't been the same since John Jensen left…

— Joseph Barton (@Joey7Barton) January 20, 2013
1.59pm: Chelsea are dominating with Arsenal struggling to get a sniff of the ball. The #RafaOut hashtag probably won't get another run out until Tuesday at least.
MATCH ODDS: Chelsea 1/12 Draw 17/2 Arsenal 17/1
1.52pm: Chelsea are looking dangerous from set-pieces. Arsenal's set pieces mainly. They break quickly from a Gunners' corner but the chance is wasted thanks to some intervention from Szczesny.
1.49pm: Fernando Torres looks like a new player! Sadly that's down to his haircut rather than any improvement in his football.
1.46pm: GOAL! Lampard scores from the spot. Niall Quinn rabbits on about sending a message to Benitez and the owner. Yeah – that penalty was definitely worth a new contract.
1.45pm: PENALTY! And a yellow card for Szczesny. Lucky not to be heading for an early (and possibly welcome) bath.
1.42pm: After taking the lead, it's no surprise that Chelsea are big favourites to win this:
Match betting: Chelsea 4/11 Draw 7/2 Arsenal 13/2
1.40pm: Great play from Eden Hazard. He ghosts past the Arsenal defenders like they're … well, Arsenal defenders before hitting a shot from a narrow angle that Szczesny gets a firm hand to.
1.39pm: Cazorla hits a stinger from about 30 yards out. Petr Cech saves in that not entirely convincing manner he seems to have developed in recent seasons.
1.36pm: GOAL! That miss is looking a lot worse all of a sudden. Chelsea take the lead thanks to a goal from Juan Mata. Arsene Wenger is furious on the sideline, but then again he's furious on the sideline most of the time. He's not happy that the game wasn't stopped when Coquelin went down injured in the build-up to the goal.
1.35pm: GREAT CHANCE! Walcott plays Giroud in with a lovely through ball, but the Frenchman pulls his shot wide from about 12 yards out.
1.33pm: Three minutes in and already Niall Quinn is talking about 'zonal marking' as if it's Satanism.
1.31pm: Lampard has a speculative pop from distance. Like an obese hippy, it's high and wide.
1.30pm: Chelsea kick off and Fernando Torres has new GI Joe style haircut.
1.25pm: The Sky Sports reporter asks Rafa Benitez 'Fernando Torres starts – what's the thinking behind that?'. Benitez looks slightly offended at the insinuation there was any thinking behind it.
1.22pm: There's a few minutes to go until kick off. Enjoy this Kanu hat-trick before the game starts. I would use his first name, but you know – spam filters and all that.
1.18pm: Jamie Redknapp just said 'VTs'. He's such a media pro.
1.10pm: There's snow around London and judging by this Twitter pic posted by @Arsenal it's falling heavily enough to be a factor in today's game.
I haven't seen so much white stuff at the Bridge since Adrian Mutu was a Blue.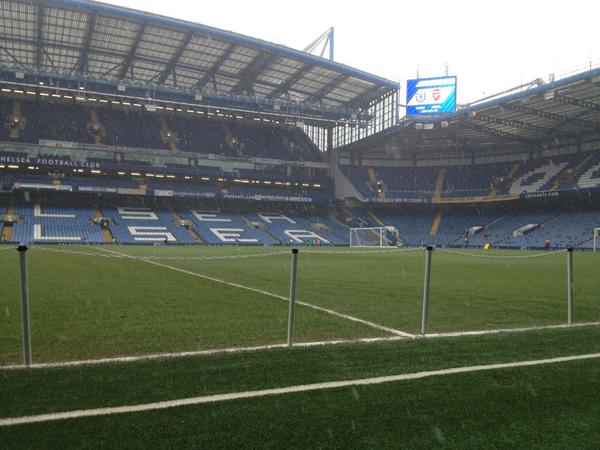 1.07pm: We spoke to Andy Gray about his Super Sunday predictions and he reckons Arsenal can nick this one.
Arsenal will fancy this. There is no real pressure on them and they can go there and keep the ball and frustrate Chelsea. This game looks like a 2-1 and it could go either way because it is a tight game. Arsenal can edge it though and 2-1 is appealing at 11/1.
12.55pm: TEAM NEWS
There's just over half an hour to go until kick off at the big and team news if filtering through. It's interesting stuff too as, deciding he was already popular enough with the Chelsea fans, Rafa Benitez has dropped fan favourite Demba Ba in favour of Fernando Torres. Presumably he's saving Ba for getting knocked out of the Capital One Cup during the week. Frank Lampard also starts and John Terry is fit enough for a place warming the bench.
Chelsea
Cech, Azpilicueta, Ivanovic, Cahill, Cole, Ramires, Lampard; Oscar, Mata, Hazard, Torres
Arsene Wenger is without Alex Oxlade-Chamberlain due to injury, which is a severe blow to my word count. Podolski also misses out.
Arsenal
Szczesny, Sagna, Mertesacker, Vermaelen, Gibbs, Coquelin, Wilshere, Diaby, Cazorla, Walcott, Giroud