GIF: Cheerleader gets absolutely flattened by college football player
This happened when the USC Trojans took on Notre Dame last night. Essentially it was just your run of the mill terrible play where the receiver has no chance of catching a wayward pass, but the addition of an innocent cheerleader getting flattened by said receiver makes it.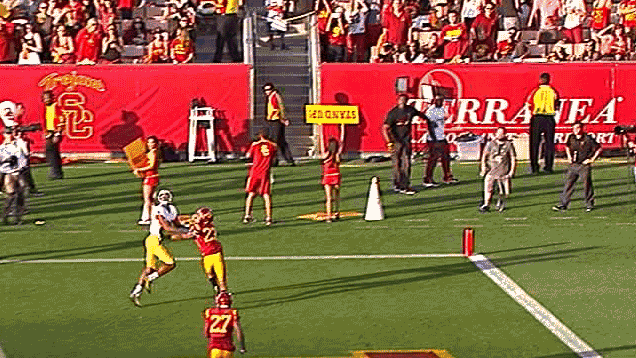 That's gotta hurt. What's especially enjoyable is that split second when see realises what's about to happen and takes decisive action – by tucking her elbows in. Yeah, that's probably not going to do the job. Her cheerleader friend's wholly sluggish response is also good. 'Hmmm … better carefully place this cone on the ground before attending to my potentially seriously hurt colleague.'
She got up straightaway and apparently she's fine. Her career in holding signs above her head is not thought to be in jeopardy.